September 6 - 20 2020
As we push through a second wave of lockdown restrictions, the isolation and disconnect is taking its toll in immeasurable ways. The current state of disaster is aptly in place to cull the spread of the Covid-19 virus, and in the interim, artists and individuals are suffering internally and economically through a loss of exposure, place and connection. Through our collective grief of the past there is still an optimism for the future, represented in small yet significant interactions; a knowing glance from a stranger or the gesture of a child's painting pasted in a window. Life, art and expression have the power to transcend adversity.

There are no new ideas, there are only new ways of making them felt - Audre Lorde, 2017

STATE OF DISASTER aims to deepen a connection between local artists and community within a semi-public sphere, celebrating art during a time of loss. Each artwork will respond individually to our current crisis and be presented in the window or front yard of the artist's or a host's house. The works will be situated in a perimeter that will take viewers on a walk no longer than an hour to maintain lockdown regulations.

The artist's imagination cannot be contained - this 'open gallery' anticipates a glimpse into the possibilities of the impossible. We can still find something new on an overwalked distance - unearth a sense of relief, satiate our desire to connect with the people around us and uncover affinities, shared sensibilities and imaginaries - to speculate on futures.

Viewers will be able to navigate the artworks via a digital map on the exhibition website that will provide further information on selected artists, their practice and ways to support them such as purchasing their artwork or continuing a discourse around their practice. Alongside the curated exhibition, the wider community will also be encouraged to take part by viewing and presenting their own artwork in their windows or front yards, documented through the hashtag#stateofdisasterkensington .


map 1



makermei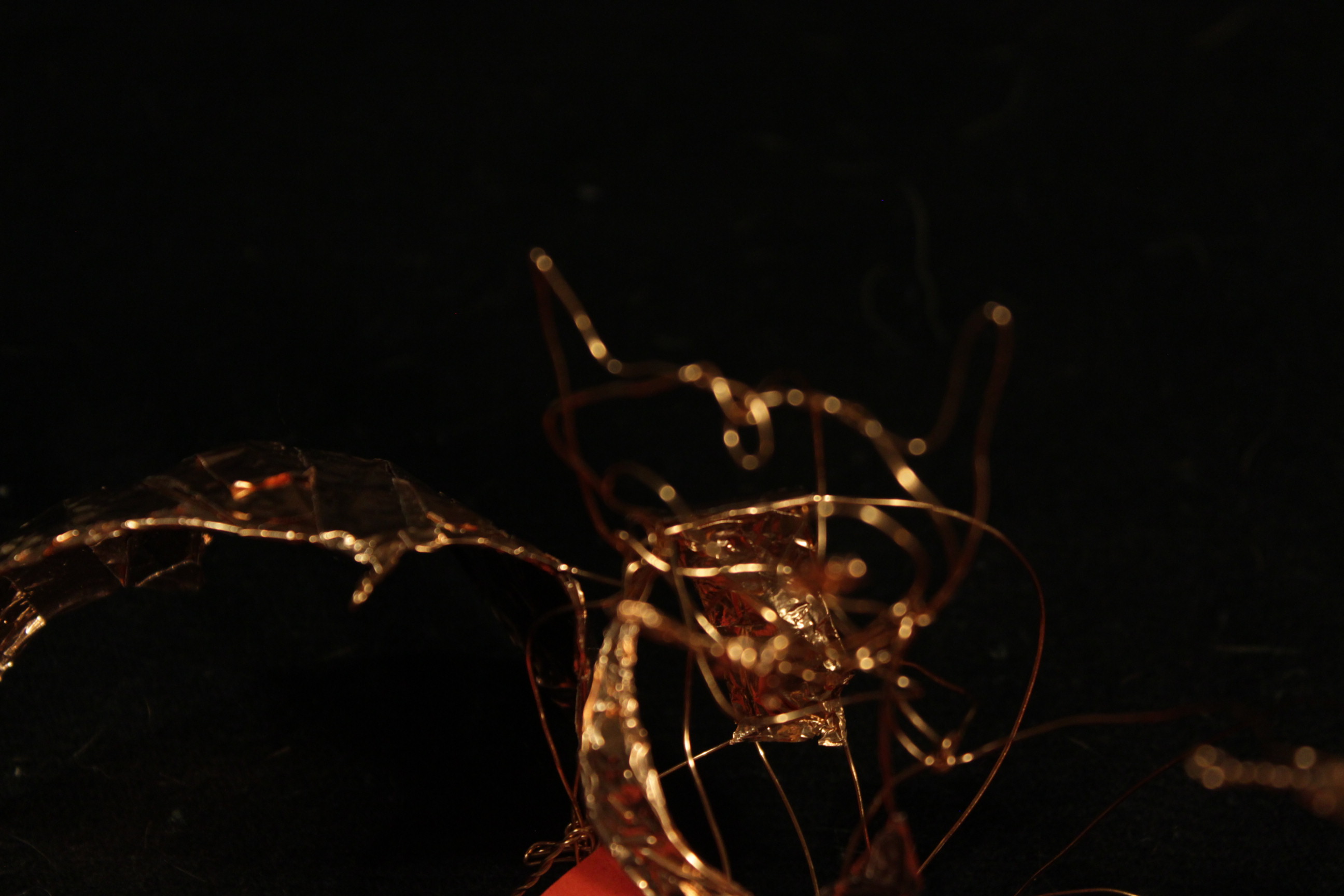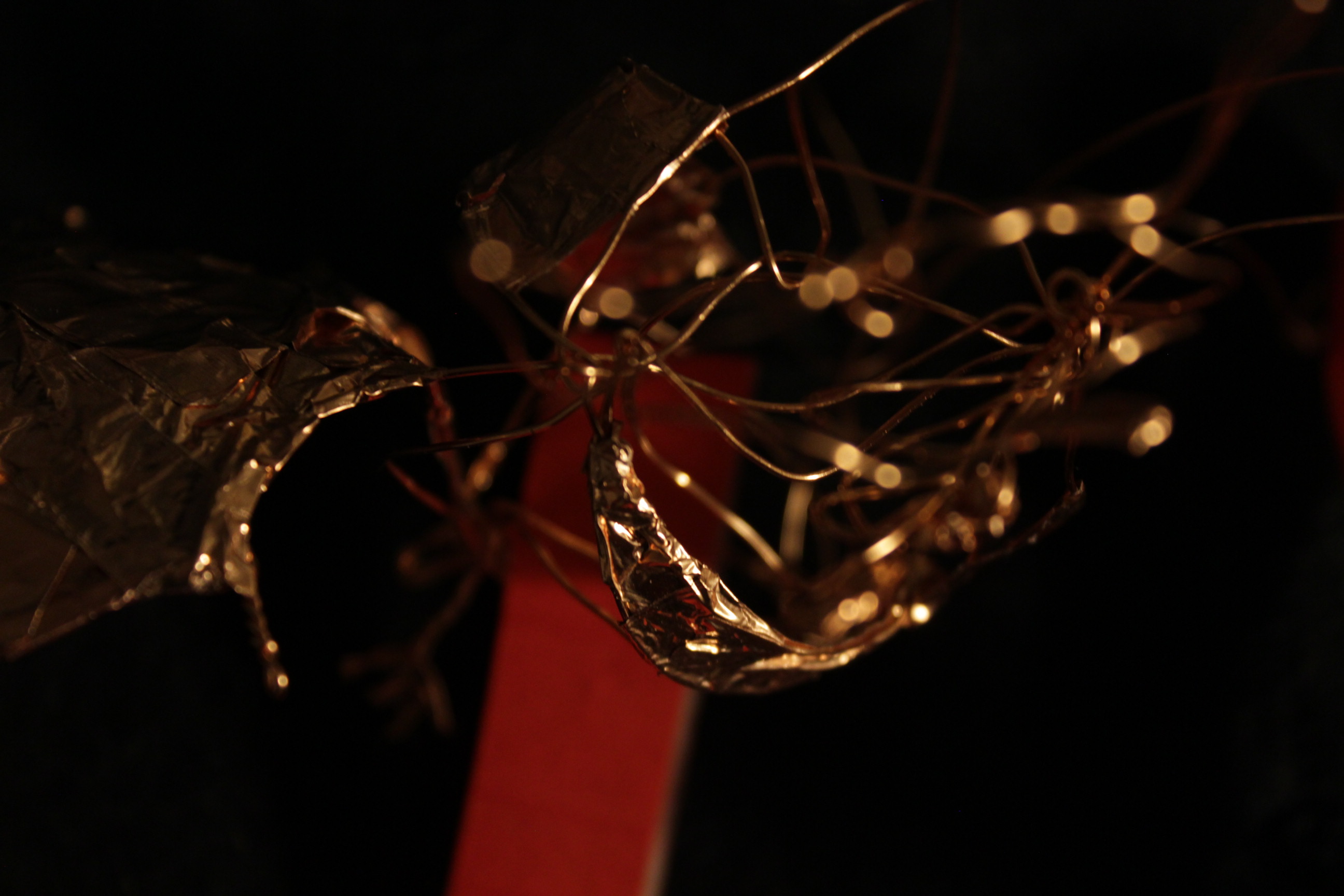 Jenny Pitts
蝙蝠
Biānfú – Bats of Fortune
Sculpture, copper wire, copper electrical tape, Chinese joss paper/spirit money
Unfurled horseshoe bat: 270mm x 270mm x 90mm
Upside down flying fox: 290mm x 160mm x 100mm
︎ makermei
My intention as an artist is to promote harmonious discourse and a symbolic reframing of the supposed cultural practice origins of the SARS-CoV-2 virus responsible for the COVID-19 global pandemic.
The artwork 蝙蝠biānfú – Bats of Fortune explores themes of symbolism, scapegoat-ism and cultural defensiveness. Dialogue in media regarding the zoonotic and supposed cultural practice origins of the SARS-CoV-2 virus responsible for the COVID-19 global pandemic have ignited fierce community reactions. Bats have become a symbol for disease and poor hygiene which some sections of society link closely to wet-markets and the consumption of "bat-soup" rooted in mystic traditions of Chinese medicine. In Chinese, the name for bat is 蝙蝠biānfú which is homophonic with the character for fortune 福fú. In traditional Chinese art, bats represent happiness, longevity, good health and good fortune.
During a state of disaster, it is easy to look for something to blame. Bats are a frequent scapegoat - their leathery wings fanning our fears of a flying mass of virus-harbouring creatures of the night. Recent fear and fervour surrounding bats has led to calls for culling and instances of cruelty towards bats. Concurrently, some people are unable to separate traditional cultural practices or actions of a foreign government from the everyday experience of Australian citizens of Chinese heritage. The combination of these elements stirs a complex mix of emotions ranging from critical explorations of the transmission of community beliefs, to an underlying defensiveness of both the Australian environment the artist was raised in, as well as the cultural heritage she seeks to reconnect with.
The artwork consists of two copper wire bats, one with wings unfurled modelled on the Chinese horseshoe bat
Rhinolophus
sinicus
and a second upside down and curled modelled on the Australian black flying fox
Pteropus alecto
. Bats symbolise fortune, health, renewal and rebirth in a number of cultures including Chinese culture. Copper as an element is essential for optimal immune function, albeit more closely associated with antibacterial rather than antiviral properties. The use of pieces of red and gold joss paper is multi-symbolic. Joss paper, also known as ghost or spirit money are sheets of paper burned in traditional Chinese ceremonies including funerals as an offering for prosperity and good fortune. Red can also symbolise luck in Chinese culture or blood and loss in Western culture. The gold characters reassembled from the joss paper have meanings of 'fortune' and 'peace to your abode'.
Covid Rainbow
Mixed media collage, paper, found images and text, core flute, wood
1330 x 880 cm

Email: jennypit@bigpond.net.au


My work aims to suggest a small note of optimism, a moment of pleasure or even just a brief diversion. Whether consciously or subconsciously received, this collage has the potential for reassurance and sympathetic communication.

Embedded in the facade of the artist's home, Covid Rainbow seeks to connect passers-by with a variegation of intense colour and pattern. Inspired by a child's painting in a window, the mixed media collage reappropriates magazine cut outs and found imagery to indicate something more than the printed media in which we seek to absorb during isolation. The focused, contemplative, almost meditative craft of collage juxtaposes words, gestures and expressions in a ritualistic ordering. In a world that is so disordered and disconnected, this work offers a symbol of social connection.
Kelly Altair
Parul Sen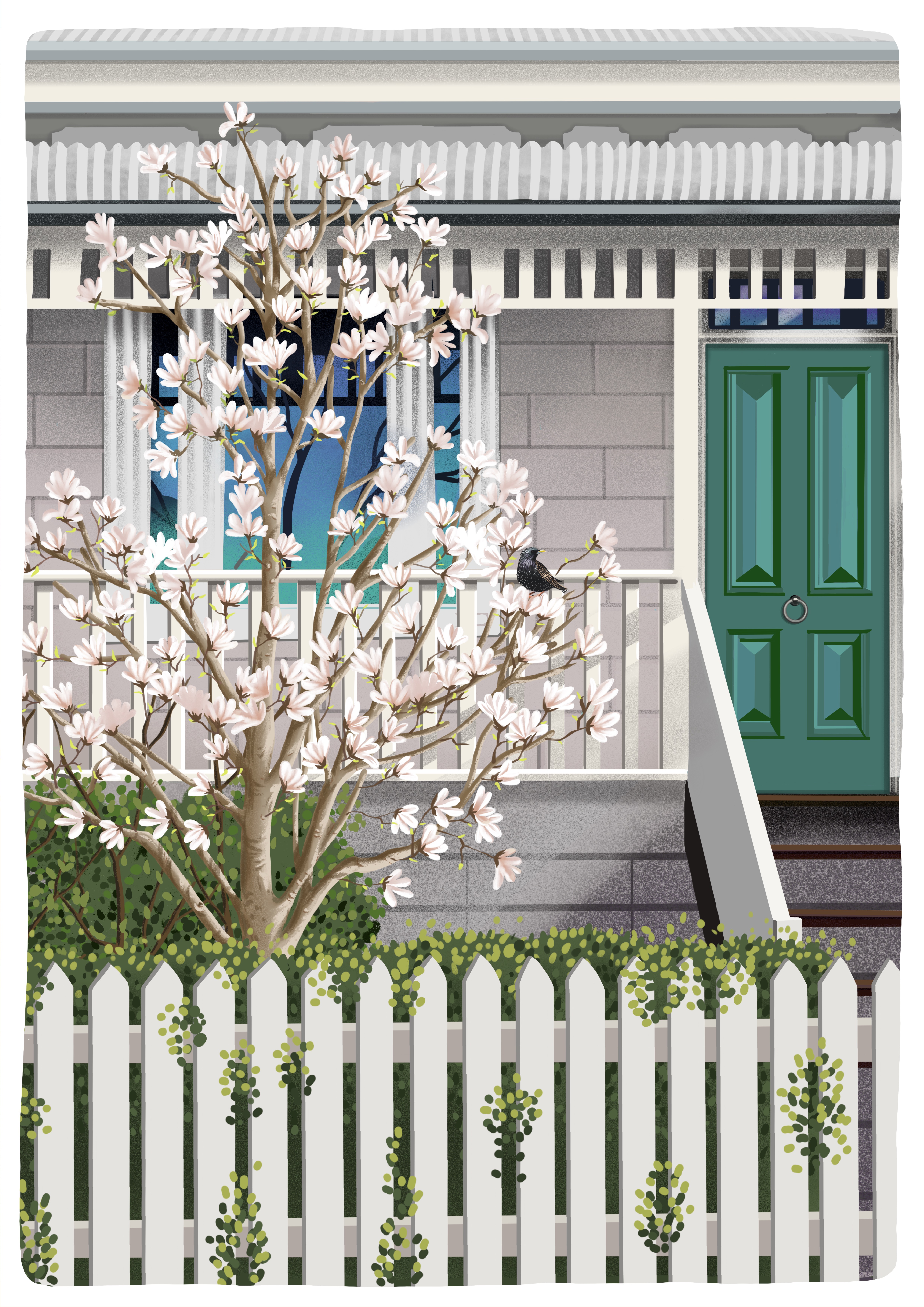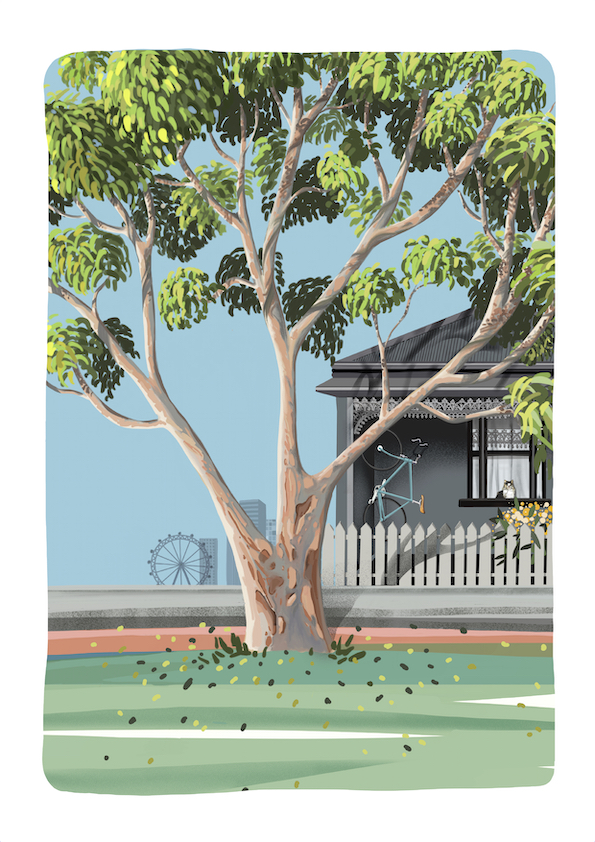 Hood
Stoneware clay, glazes, plywood
100 x 90 cm
email: kaltair@kaltair.com
︎ kaltair.art

I am an emerging artist working out of a ceramic studio I built in my garage. My work has an intensity that allows me to escape the harshness of life. The intention of this work is to communicate the strong connection I have formed with the streets of my neighbourhood during lockdown.
As a celebration of the artist's neighbourhood, this work maps the geography of an urban environment that has become our collective boundary. Simplified geometric shapes locked together in an intricate arrangement reflect one part of history and place, suggesting a promising proposition to look at our current experience with a wider view. Glass formers, fluxes and refractories are trialled and tested - as the artist develops their own formulas for glazes, this DIY culture references hard times, communicating a desire to survive. As well as this work being a study that embraces the blueprint of our neighbourhood, it also considers notions of persistence and endurance. The initial fragility of the clay material transformed by the artists' process of rendering a hard surface signifies the strength of our community.
Magnolia
Lemon-Scented Gum
Mosaic
Digital Illustrations - 42.0 x 59.4 cm


As an emerging artist, my work focuses on scenes inspired by where I live in Kensington and the surrounding suburbs.



This series expresses the artist's appreciation for the everyday scenes they pass. The lockdown has brought forth a lot of challenges for the artist, some personal and some professional. The mantra for dealing with these challenges has been "staying in the moment", soaking in the surrounding beauty, listening to the sound of the birds and studying the trees shifting through the seasons. This series of artworks is a reflection of those images that eventually find their way onto the artist's digital canvas.
rute chaves
curtis moulton
a medium is a device through which a world makes itself known or seen or heard
Interactive performance installation, duration + dimensions variable, reclaimed yarn
www.rutechaves.com
︎rute_chaves_studio
This work explores immersive processes of relation through the act of harvesting (the yarn, the artist's words, the people's words) and the practice of making. This Interactive performance installation intends to promote artefacts through modes of encountering. The process of making these objects, instilled with viewer's personal experience, forms vessels of emotion.
This work uses a hacked knitting-machine transformed into a knit-typewriter; it uses open-source hardware and software to have real time control over the needles to knit digital patterns. The knit itself is manually operated; the computer translates the typing into knitted language.
For two weeks a large-scale knit installation will be developed, made of the artist's words, readings and feelings of displacement, disconnection, dispossession - like a mind inside-out.
This collaborative techno-craft invites the artist's thoughts and responses to our current state, as well as the feelings of others. Participants are encouraged to write to the artist with their thoughts/feelings that emerge from the current state of disaster. Free associations (up to three words) can be sent. Quotidian, sudden and uncertain (like the current times), the artist and viewer will come together as Rute type-knits your co-presence into their piece. In time, the community will see "themselves" within the work.
The knitted words will form a garment-like piece, soft and pyjama-like, mirroring our disaster uniforms. Made of re-claimed yarn, reforming one thing into another, this work is an homage to our resilience and capacity of trans-forming, trans-making, response-ability and re-covering.
Email for people to send words to:
stateofdisaster.kensington@gmail.com
(or place words in letterbox)
+5k Fougère
Fragrance Installation - Natural Essential Oil Extracts, Ceramic Oil Burners, Candles,
Copperware, Found Mirror - daily duration 10:00 - 17:00


As an artist, I explore the 'ethereal arts' -non-concrete/intangible mediums. I work in sound and sonics, movement and dance, and more recently fragrance and olfactory investigation.



"+5k Fougère" utilises a scent installation to evoke near distances we knew not so long ago. 'Fougère' - literal translation from the French for Fern - is a perfume classification/genre denoting a 'forest' type smell.

Smell is tied to breathe which we often take for granted. Currently, in these days, we find our selfs subject to concealing and obstructing our breathing passageways. The olfactory neural pathway has fascinating power to evoke memory, nostalgia and emotion; igniting imagination. This work encourages viewers to close their eyes for a few breaths and allow the conversation between scent and imagination to take them beyond the lockdown limits; questioning our relationship to these places both within and beyond; highlighting the here and now. The artist is excited by the thought of unknown passers-by breathing in the artwork, which will be an anomaly to the blossoming springtime Kensington air; the artist hopes that this "happening" can accentuate one's relation to their breath behind the mask, bringing forward consciousness/attention/intention.
Bridget Griffiths + Madeleine Russo
facade
Installation - Dimensions Variable, mediums of works:
'work 1' - gloss paper print 841mm X 1189mm
'image 2' - mixed-media collage approx. 6x.6m
'windchime' - foil, metal, cotton and other materials, dimension variable
bridgetgriffiths.net
We are are two artists living in the same house in Kensington. Both of our practices playfully explore such didactics of interpersonal relationships and the shared histories of art practice and pop culture, and how they can be arranged within sculpture and painting.
This work offers a respite in the form of an altered or tweaked front porch decoration, wind chimes or other domestic platitudes. Transparent and printed fabrics are proposed to hang on two large windows upon on a double fronted house.
Varied aesthetic responses to the crisis have occurred in the domestic facade, an often neglected space for artistic practice, yet house facades have always been a site for virtue signalling, activism and solidarity with the community. These are all themes that have enveloped contemporary art practice. As emerging artists, Bridget and Madeleine have been trained in the latter, but have always been concerned with the blind spot this creates for direct action. The current crisis has offered public forums to collide with the domestic on a more accessible scale, and creates an opportunity to carve a new way of communicating.
map 2

Christopher Strong






Haydn Allen
Site 1. Christopher Strong
Gumnut from the neighbourhood
Oil on canvas - 50cm x 40cm
www.christopherstrong.com
︎ christopherstrong_art
︎ christopherstrongmelb
I paint intensely coloured and intricate works that celebrate nature in an Australian context. My arts practice draws upon personal experiences and sentiments. In the act of painting what I encounter, I can explore deep emotions and make connections between my life and the natural world.
In this state of disaster, our wider community has been discouraged from roaming far from the home, so rather than surveying bushland for his subject matter, the artist has been inspired by nature growing and living in the local community. In Kensington we are surrounded by flora and fauna that demand careful and close examination.
Present in the parks, the air, neighbour's gardens and lining the streets, we are bounded with an impressive spectrum of life. Nature growing in Kensington can be seen, smelled and heard by everybody and this contributes to a continued sense of harmony and connection to each other and the earth. This painting was inspired by gumnuts found in a yard in Henry Street.
Site 2. Haydn Allen
The Pigeon Video
Video - 6 minutes 16 seconds


haydnallenvisualart@gmail.com

I am a young queer artist living and working in Kensington. My practice spans installation, video, photography and painting, though during the pandemic I have focused primarily on two-dimensional mixed-media works and paintings. Sustainability is at the forefront of these works, often using recycled and scavenged materials as the basis for new artworks.

This work is about pigeons. The artist was undertaking a study of pigeons at the time the work was developed and explores the desire to form a deeper connection with the local environment. Through a process of knowing, observing and connecting, this work is about looking for new ways to relate to the earth within the restrains of our bizarre inner suburban environment. As the artist runs/walks the exact same path every day, the repetitive action of passing by the bridge, the birds and the creek is represented in the seamless cadenced imagery of fluffing and flapping, creating a meditative pigeon induced trance state. Spending time with pigeons as a diversion from the mundane, this video work aims to find a sense of peace and connection in the little strips of 'nature' we're provided in our 5km radius. Barefoot in the Moonee Ponds Creek, making a mandala out of birdseed and trying to summon the pigeons, the artist recorded the sound for this video by satirising the tutting and cooing of the birds he romanticises through the video image.

Julie Kimpton
.
Sarah Coe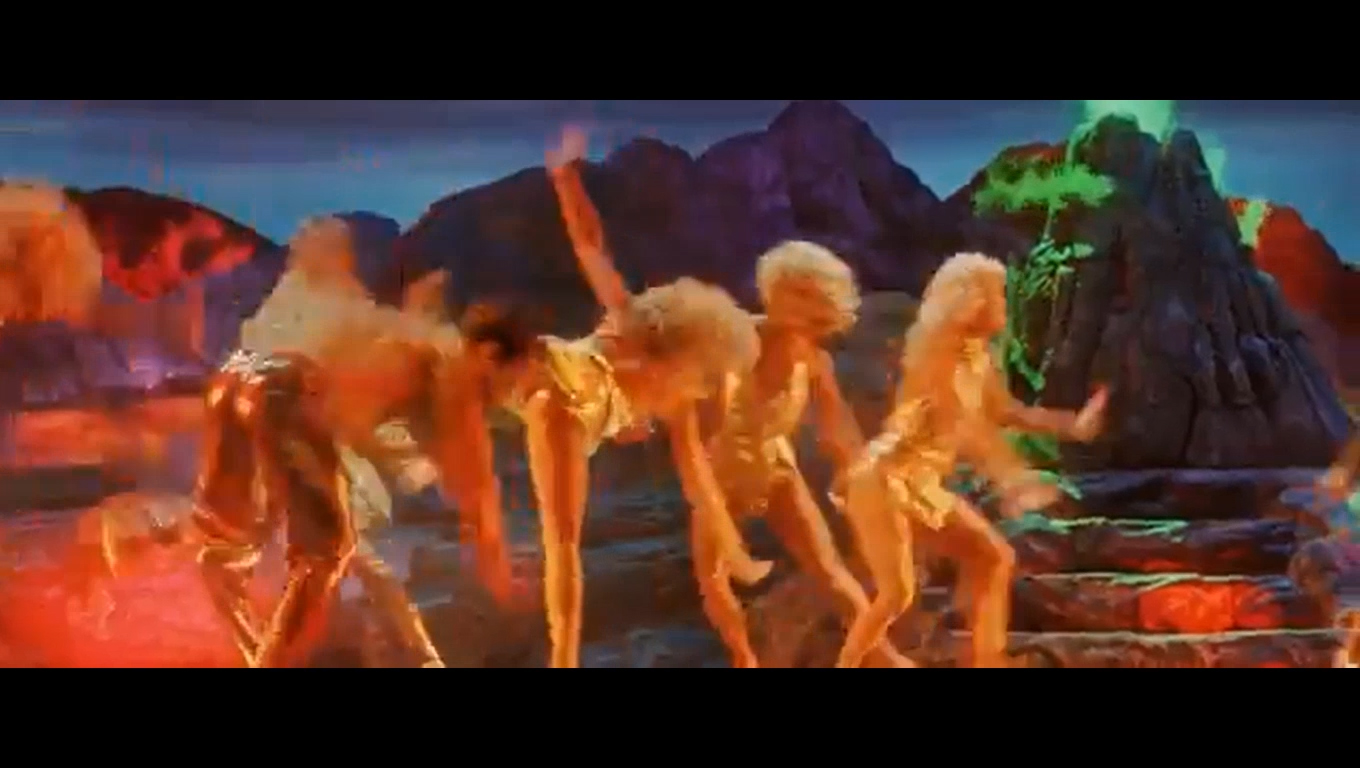 Site 3. Julie Kimpton
Dog in the window
Digital Photographs on Epson Premium Luster Photo Paper - A2 420mm x 594mm
︎ julie_kimpton_artist
I am a local based artist working in the artforms of painting and photography. My practice aims to represent all aspects of life, particularly the movement, colours, shapes and textures that my subject matter presents.
This work celebrates the artist's dog, as a powerful and playful emblem of the dog community within Kensington. During this state of disaster, dogs have given the community the capacity to connect with neighbours, strangers and passers-by - through their unwavering gusto and instinct to smell, embrace and unite. Through these structured or chance encounters with dog owners, a camaraderie between humans also occurs.
Site 4. Sarah Coe
We Got Annie
Video Collage, duration undecided 2:05min
Found Footage of Annie, Gilmore Girls, Big Brother Australia Season 5,
The Sims 4 gameplay, Ozark, 50 First Dates + more

email: sarahlynnecoe@gmail.com

My arts practice explores stream of consciousness in the mediums of acrylic paint, collage,
writing and video, allowing space for ideas, impressions or concepts to arise and inform the work.

As a personal narrative, this work explores the artist's consumption of media content throughout the pandemic. The artists' relationship with media and the patterns that have emerged from this habitual bingeing and internal replay are reflected through a rhythmic layering of worlds, both real and simulated. This mashing of pop culture, trash and sci fi forms a voyeuristic tension that empathises with the passive viewer in confinement. In a broader sense, the artwork examines the ways in which our lives have become intertwined with the media we consume and how this informs and interrupts the way we live.


Lorenzo Pavesi
Sally Ann McIntyre + Campbell Walker
Site 5. Lorenzo Pavesi
Imparo
Acrylic paint + thread on canvas - 75 X 60 cm
︎ lv.fiftyfive
My minimalist style aims to promote self-resilience and internal balance. I am interested in the intersections between art, craft and décor.
"Imparo" is one of the artist's mantras that he repeats to himself as a provocation toward focus and openness. As part of the artist's process, he has developed his own symbols representing language, and repetitively stitches this word "Imparo" into the surface of his paintings. This formulaic approach is repeated multiple times, rhythmically, as a reminder to live life openly - Imparo meaning "I learn" in Italian. The geometric and restrained décor style plays an important role in the artist's desire for aesthetic order and sterility - a desire heightened during this challenging time of disorder and necessary yet compulsive hygiene practices.
Site 6. Sally Ann McIntyre + Campbell Walker
a less formal border, which may only appear within the search for it
New work by Sally Ann McIntyre and Campbell Walker
Daily sound from 8am-8pm | video projections from 6pm-9pm
For more info visit: alessformalborder.blogspot.com
Our collaboration focuses on cartographic concepts, the location of perception, and the possibility of movement within restraint. We detail a set of non-concentric, yet shared circles of transmission, composition, and recording as material and spatial frameworks, and in doing so elaborate the desire for understanding shared perceptive experiences, while acknowledging the location of bodies and perceptions.
Two parallel works in different media by two artists; this work explores different ways of understanding the worlds we're living in during the lockdown. Campbell's work - which will be projected onto the wall inside of the artist's house and will be visible through the window from Rankins Road in the evenings – records a series of trips to the literal edge of the world right now, to walk the arc of the 5km perimeter from our houses, to both traverse and record this delimiting of our lives.
Where Campbell's piece goes out of Kensington to the edges of allowed space, Sally uses a home-made radio transmitter to localise the scale of listening to the world directly outside of the house. For the duration of the project, she'll leave a series of daily listening/text instructional scores outside the house for people to go and discover for themselves locally, a kind of solitary and remote, yet shared located listening exercise. Listeners will be invited to respond to these scores, and Sally will then draw on these responses to generate an evolving sound work. This will be transmitted through the radio waves as a series of programmes, to be tuned into within a small radius, directly outside the house. Bring a radio (or radio-capable phone) to tune in – instructions and schedule will be on the front door.